Two Louisiana Men Arrested After an Online Tip Leads to the Discovery of Methamphetamine, a Firearm, and a Bulletproof Vest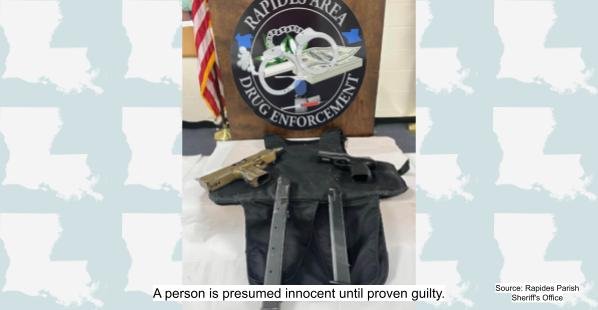 Two Louisiana Men Arrested After an Online Tip Leads to the Discovery of Methamphetamine, a Firearm, and a Bulletproof Vest
Rapides Parish, Louisiana – Two Louisiana men have been arrested after an online tip led to the discovery of methamphetamine, a firearm, and a bulletproof vest.
Agents assigned to the Rapides Area Drug Enforcement (RADE) Unit received community reports in early March about a subject selling drugs and possessing illegal firearms in the 2000 block of Olive Street. These complaints were made using the RADE Facebook Messenger service and are all understood to be anonymous according to authorities. The suspect was swiftly identified as Christopher Sherman by the agents assigned to the case.   Authorities obtained a search warrant for an address in the 2100 Block Olive Street, the residence identified as Sherman's, using investigative procedures and extensive observation. RADE Agents requested the aid of the Alexandria Police Department's Special Response Team to execute the search warrant due to Sherman's violent criminal history.
The search warrant was carried out on March 23, 2023. Christopher Ray Sherman and Justin Leron Sherman were discovered in the home and arrested without incident. After a search, RADE Agents reportedly discovered methamphetamine, a weapon, and a bulletproof vest in Christopher Sherman's bedroom. In the living room, a Mac-10 firearm was reportedly discovered behind a sofa cushion.
Christopher Ray Sherman is currently on parole after an incident last year in which he pleaded guilty to felon in possession of a firearm. Justin Leron Sherman is also on parole for a prior felony-related conviction and is not permitted to own a firearm. Christopher and Justin Sherman were both arrested and detained for violating their parole.
Both Christopher Ray Sherman and Justin Leron Sherman were still being held in jail at the time of this release for Probation/Parole Violations.
A detective assigned to the Bureau of Alcohol, Tobacco, and Firearms (ATF) as a Task Force Officer was contacted, and the case would be reviewed and considered for federal prosecution.
RADE agents say their investigation is still underway and ask the public to contribute anonymous tips via their Facebook page.
The Rapides Area Drug Enforcement (RADE) Unit is a multi-jurisdictional team made up of the Alexandria Police Department, the Ball Police Department, the Boyce Police Department, the Cheneyville Police Department, the Forest Hill Police Department, the Glenmora Police Department, the Grant Parish Sheriff's Office, the Lecompte Police Department, the McNary Police Department, the Pineville Police Department, the Rapides Parish Sheriff's Office, the Woodworth Police Department, and the Grant Parish District Attorney's
The RADE Unit continues to target persons accused of drug trafficking in Central Louisiana. You can send direct messages to the Rapides Area Drug Enforcement Facebook page at https://www.facebook.com/RADEunit/ if you have information or want to report any narcotics activity.
An arrest is an indication that probable cause exists to believe the subject was involved in the offense alleged. A person is presumed innocent until proven guilty.
Ouachita Parish, Louisiana - Louisiana State Police Troop F initiated an investigation into a three-vehicle injury crash on LA 34 at Sandal Street in West Monroe on Thursday, November 30, 2023, around 1:00 p.m. The crash resulted in the unfortunate death of Anthony...
read more