Louisiana Wildlife Agents Cite Two for Allegedly Dumping Personal Watercraft, Construction Debris, Appliances, and Other Trash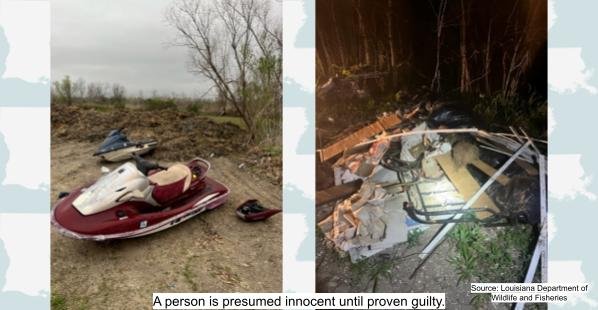 Louisiana Wildlife Agents Cite Two for Allegedly Dumping Personal Watercraft, Construction Debris, Appliances, and Other Trash
Plaquemines Parish, Louisiana – Louisiana Wildlife Agents have cited two men for allegedly dumping personal watercraft, construction debris, appliances, and other trash.
On March 30, 2023, the Louisiana Department of Wildlife and Fisheries (LDWF) reported that enforcement agents cited two Belle Chasse, Louisiana men for alleged litter violations in Plaquemines Parish on two separate occasions.
Authorities cited Gabriel Menendez, 20, on January 29 and Justin Vernon, 38, both of Belle Chasse, Louisiana, on March 10 for alleged gross littering.
Authorities reportedly discovered two damaged personal watercraft on Walker Road near Belle Chasse, Louisiana. Agents were directed to Menendez during the inquiry, and he admitted to abandoning both personal watercraft.
At Walker Road, agents discovered a large amount of construction debris, home appliances, and household trash. Agents discovered evidence in the trash that led them to Vernon's residence.
Gross littering is punishable by a fine of up to $950, 30 days in jail, and 16 hours of community service in a litter abatement work program.
Sgt. Villere Reggio and Corporal Austin Landry are the agents involved in these cases.
A person is presumed innocent until proven guilty.
The City of Lake Charles has received an $866k federal grant to help reduce heat, benefit health, and improve access to nature.
read more