I-210 Prien Lake Bridge Project Update April 12, 2019
I-210 Prien Lake Bridge Project Update April 12, 2019
The Louisiana Department of Transportation and Development advises motorists that I-210 Prien Lake Bridge will continue to be reduced to one lane in each direction as part of the ongoing repair project.
The $35 million project will significantly improve 930 feet of the bridge's surface, increase access for bridge inspections by installing a walkway under the main span, improve safety by retrofitting new guardrails, and enhance visibility during nighttime travel by installing lighting between I-10 and the Cove Lane interchange.
Work began in early January 2019, and the contractor has completed the removal of the eastbound main span deck. The safespan platform, which allows additional access to the work zone, has been installed and has been an innovative benefit. The permanent inspection walkway is being installed and approach work has started. Concrete deck pours and barrier rail retrofit will begin soon. The entire project is expected to be complete in January 2020, with progress dependent on weather.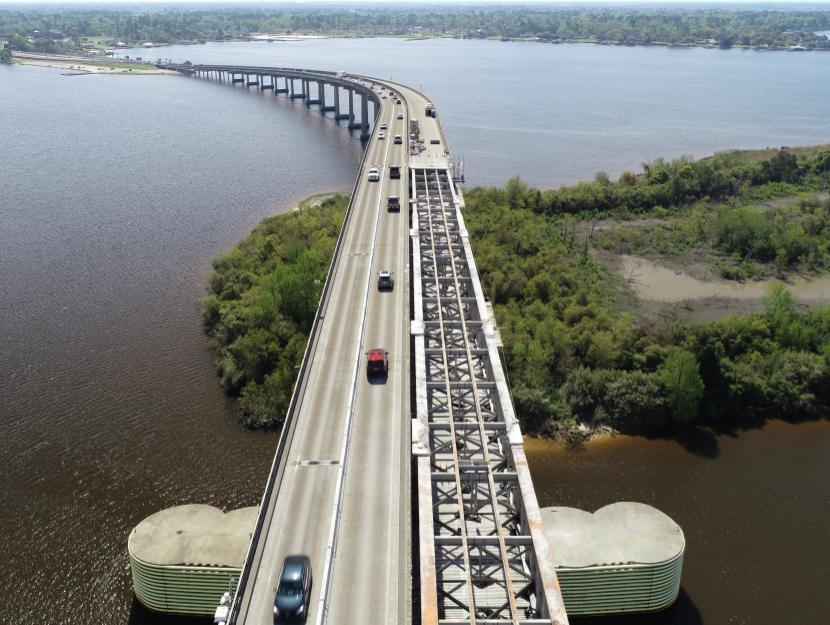 I-210 eastbound main span has been removed. (Source: Kiewit)
DOTD understands that traffic congestion related to the I-210 project is a major concern for the Lake Area. Unfortunately, crashes only make congestion even worse. To ease that congestion, DOTD added towing service to the project site.
"Most of the accidents are fender bender type. There have been no major injuries," said Dick Gremillion, Director of Homeland Security and Emergency Preparedness for Calcasieu Parish. "We were anticipating some of those minor accidents like that may take as much as four to five hours to clear, but that hasn't come to pass."
The tow truck is able to remove any size vehicle within the project limits. This allows quicker response time and potentially less of a delay for I-210 motorists.
"If you look at the everyday traffic, not necessarily rush hour, but throughout the 24 hour period the que actually looks better than it was predicted to be," said Gremillion.
As a reminder, the alternate routes for passenger vehicles and trucks 25 tons and less are I-10, LA 12 and US 190. LA 12 and US 190 can be accessed via LA 109, LA 27, US 171, or US 165. For trucks greater than 25 tons the alternate routes are I-10, US 190 and LA 12. US 190 and LA 12 can be accessed from the east via US 165 and US 171.
Vehicles over 11 ft. wide may not travel through the work zone.
Gremillion reminded motorists to "stay off your phone, [and] don't be texting and driving. Any kind of distraction in a heavy traffic situation like this can cause a major delay."
DOTD appreciates your patience and reminds you to please drive with caution through the construction site and be on the lookout for work crews and their equipment.
The I-210 westbound direction (MM 1-3) will be closed nightly from 9 p.m. to 4 a.m. Tuesday, July 16 to Thursday, July 18. All work is weather dependent.
read more
Over the July 20 – 21, 2019 weekend, Louisiana State Police worked three fatal vehicle accidents that involved unrestrained occupants. 
read more
On Friday, July 19th, 2019 at approximately 3:05 pm, the Lake Charles Police Department responded to a call for service at Capital One Bank, located at 1920 Gerstner Memorial Drive.
read more
On July 20, 2019, Louisiana State Troopers responded to the crash around 11:10 a.m., which occurred on LA Hwy 113, south of Pitkin.
read more